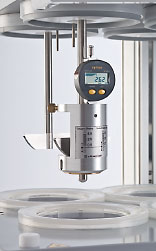 Dissolution equipment calibration and maintenance is an important part of the life cycle of the tester. Routine maintenance and preventative servicing can often prolong the shelf life of a dissolution tester, maximising its financial outlay and saving valuable budget spends in the future.
Owing to the large volume of workload placed upon busy QC laboratories and the frequency of batch analysis resulting thereof, dissolution equipment calibration is as important as ever to maintain the strict standards set by USP, EP and JP as well as keeping the machines in good working order.
Dissolution equipment calibration is something best left to the professionals too. Only through an experienced, knowledgeable practitioner can a dissolution tester be properly calibrated and maintained. The requirements are specific, ridged and often specialised, meaning only a truly capable engineer can perform dissolution equipment calibration to satisfactory standards.
Do you know how to fix a wobble? Would you know if there was even a wobble in occurrence? Or perhaps you never knew your shaft was oscillating incorrectly? Maybe your dissolution tester is on a tilt? Or the height adjustment is 1mm off point and you didn't realise? Would you even notice? These are the bugbears of dissolution equipment calibration and like it or not, they have to be addressed.
How can TLS help with dissolution equipment calibration ?
This is where Total Laboratory Services can help. Like the science of pharmaceutics itself, dissolution equipment calibration is an exact art, and the TLS engineers have more than 20 years' experience in the field, calibrating and maintaining dissolution testers for pharmaceutical companies and academic institutions across the UK.
We have calibrated all makes and models of dissolution testers, and are able to quickly identify problems and implement solutions, to deadlines, and to industry standards. We can also provide a full service overview of a dissolution system, identifying issues outside of the calibration environment but equally as important to the correct running of the machine.
TLS have been calibrating dissolution equipment for so long now, that we are one of the leading UK specialists in this field. Our ethos is simple – we are not happy until the machine is working properly, which we hope then makes you happy, which is a win-win situation for us both. Our pride is our guarantee.
A good dissolution equipment calibration, backed up by a healthy service and perhaps some PVT to boot will have your lab machinery in tip-top condition in no time. Let the experts at Total Laboratory Services Ltd give your dissolution tester the care and attention it deserves, so you can wave goodbye to that wobble.
Please feel very welcome to contact us should you require any dissolution equipment calibration at your laboratory. We are happy to help.
* USP guidelines state: The shaft is positioned so that its axis is not more than 2 mm at any point from the vertical axis of the vessel and rotates smoothly and without significant wobble that could affect the results.